Blog Offers Information, News and Sharing
The SCOPE blog shares news of interest to entrepreneurs, ideas, tips and materials to help group your business and information shared by SCOPE leadership, advisors and member businesses and communities. Send requests for blog posts on specific topics or posts you wish to share to the SCOPE webmaster.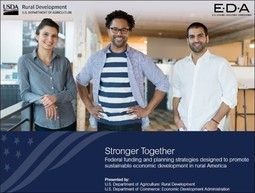 USDA and EDA Launch Resource Guide to Boost Economic Development in Rural Communities The U.S. Economic Development Administration (EDA) and the U.S. Department of Agriculture (USDA) Rural Development just released a joint resource guide to help community...
read more